250 Series Windows
Why Choose Pella 250 Series?
You want exceptional energy efficiency with the choice of double- or triple-pane glass.
You prefer a higher quality look than ordinary vinyl.
You'd like more performance and convenience features and design choices.
Overview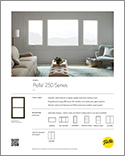 Available 250 Series Windows
---
Exceptional energy-saving performance.
InsulShield Low-E insulating double-pane glass comes standard.
Great for climates with hot and cold weather extremes.
Blocks 84% of the sun's fading ultraviolet rays with AdvancedLow-E.
Optional triple-pane glass. Maximizes your homes energy efficiency.
Pella 250 Series products with triple-pane glass are 54% 77% more energy-efficient than single-pane windows.
Blocks 86% of the suns fading ultraviolet rays with Advanced Low-E glass.
Optional foam insulation. Increases energy performance.
---
A higher quality look than ordinary vinyl.
Full frame profile with edge detailing. A more stylish design than ordinary vinyl windows.
Attention to detail. The interior sash corner welds on Pella 250 Series products are less visible than on typical vinyl, for a more attractive look.
Wide selection of frame colors. Dual-color frame option offers White interiors with a choice of nine DuraColor exterior finishes. Solid-color White, Almond or Fossil frames also available.
Beautiful grille styles. Select from Simulated-Divided-Light grilles for the authentic look of individual windowpanes or grilles-between-the-glass to create a smooth glass surface that's easy to clean.
---
They stand up to weather better and last longer than ordinary vinyl products.
Outstanding weather resistance. Weather-repel design channels water away from the home.
Stronger than ordinary vinyl. Multichambered vinyl frames and reinforced sashes are 52% stronger.
Fewer worries about warping, sagging or bowing vinyl. Precision welding process helps ensure windows will resist warping or twisting over time.
---
More peace and quiet.
Noise reduction. Optional triple-pane glass helps reduce outside noise.
AutoLock hardware automatically locks windows when shut. Simply close your window and confirm it is latched.
Limited opening latches. When engaged, they keep the window from being opened more than a few inches helping prevent children from opening the window further.*
*Override feature allows window to be opened in an emergency.
Go Back